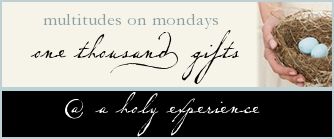 As I was reading another blog of a sweet young woman who I have at least a few things in common with, I noticed that she was counting the gifts or blessings, that have been given to her by our wonderful creator...
She writes....
We count so many things: scoops of flour in the recipe, fingers and toes on a new baby, the exact change for the cashier. But how many times do we count the gifts? Those gifts that an omnipotent, almighty God gives us each and every day.
Ann Voskamp is one of the most amazing writers I've ever had the privilege to read. She's a farmer's wife with a beautiful book that is in it's third printing….and it's only been out for two weeks. One Thousand Gifts is her lovely, unique story, and she has inspired hundreds of others to count the gifts God has given to them. So here I am, joining them in seeing the beautiful, wonderful gifts in everyday moments. Join us?
I think I will.
1.a warm home on an icy cold night
2.singing in the car to the Lord, and being overcome with pure gratefulness
3.being kissed goodnight by my teenage sons (without asking)
4.sleeping under an electric blanket
5.talking on the phone to my bff for 90 minutes
6.laughing at the dinner table
7.meeting someone new who loves the Lord
8.warm sunshine through the window
9.sleeping in and not feeling guilty
10.my morning coffee