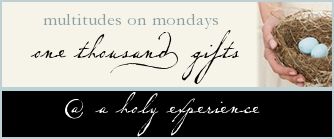 51. Josh, who has made the last 14 years the best in my life! Happy Birthday!
52. "We just had to come." said Al and Debby as he helped her pain riddled body make its way to a chair in our sanctuary at our Launch service.
53. Three fresh little faces peering up at me after praying to receive Jesus as Lord and Savior!
54. SKYPE!
55. Only 2 1/2 weeks till my Bree is home from college!
56. Little tables and little chairs for little people purchased by a sweet woman who saw the need.
57. clean water at my finger tips
58. brothers that love each other
59. emergen-C
60. no school tomorrow