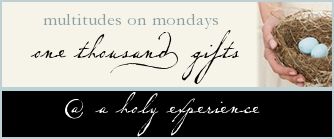 61.Getting to hear my husband preach God's Word.
62.Children at our church sitting around a new table on little blue chairs.
63.Counting down how many moons till Bree is home.
64.My boys being rambunctious.
65.Hearing the testimony of an awesome woman who loves Jesus, thanks Candace.
66.Simply Orange orange juice....really!
67.Falling asleep to the rain.
68.Riding in the car at dusk with the windows open a little.
69.2 weeks of the puppy going potty outside.
70.Spring is finally here!